You're invited to our secret product launch (sssshhhh! 🤫)
Ok, so last weeks episode (EP3 SE1) was a little dramatic 🙃 (sorry!) but the response we got from sooooo many of you was amazing! Thank you for your kind words of encouragement, support and congratulations - it means so much! We can't wait to share pictures of our new home
This weeks episode is a little less dramatic, but equally as EXCITING! 🤩 We are gearing up for the launch of our newest giftbox! We've been busy working behind the scenes on a new set of flavours for our signature chocolate coated dates and we are thrilled to give you the FIRST exclusive look: Introducing INDULGE by The Datery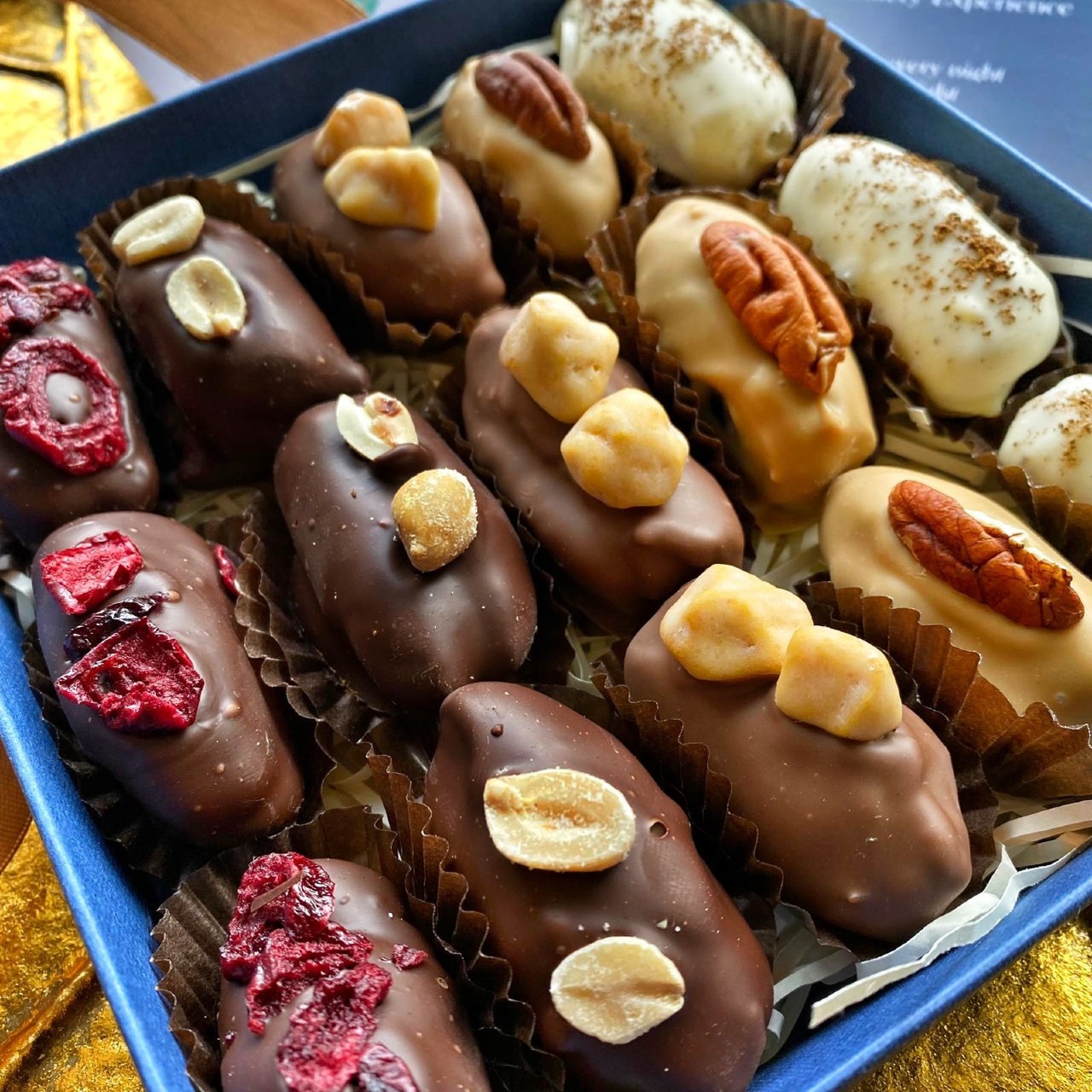 The Datery Diaries EP4 SE1
You're invited to our secret product launch (sssshhhh! 🤫)
Ok, so last weeks episode (EP3 SE1) was a little dramatic 🙃 (sorry!) but the response we got from sooooo many of you was amazing! Thank you for your kind words of encouragement, support and congratulations - it means so much! We can't wait to share pictures of our new home
This weeks episode is a little less dramatic, but equally as EXCITING! 🤩 We are gearing up for the launch of our newest giftbox! We've been busy working behind the scenes on a new set of flavours for our signature chocolate coated dates and we are thrilled to give you the FIRST exclusive look: Introducing INDULGE by The Datery
The Datery Experience: INDULGE Giftbox
INDULGE was designed to be experienced from LEFT to RIGHT. Beginning your journey with deep dark chocolate tones and ending with a white chocolate coffee infusion that brings the journey to an end. 
Alternatively, each flavour can also be enjoyed on their own 😋
As a super-duper customer, we are giving you an exclusive Pre-Order invite to purchase the INDULGE giftbox before it's official launch! We anticipate that we'll sell out of the giftbox within minutes of launching (even though we will do a major stock push!) but as a valued customer and supporter of the The Datery, you get first dibs 😎
The flavours in the INDULGE giftbox are out of this world and I cannot wait for you to taste the newest members of our flavour family!
I am incredibly proud of what we have achieved as a team and I can't wait to share our treats with you (they're sooo good! 🤤)
Let me know what you think!
With love,
Aisha xx
Co Founder & Head Chocolatier